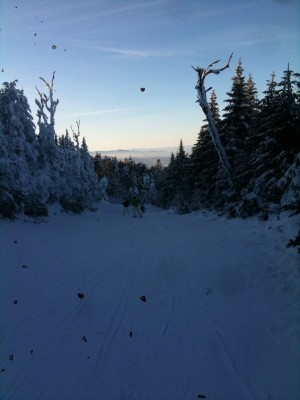 Saturday I took a day trip to Okemo Mountain in Vermont without having to drive a single mile. The latest way to get to the slopes from Brooklyn is the Brooklyn Ski Bus. Departing from Park Slope at 5am most Friday, Saturday, and Sundays, the Brooklyn Ski Bus will take you to many ski resorts in the area while you relax and sleep it off. The bus deposits you back at the pick-up point about 8pm. With prices ranging from $89 to $109 including transportation, lift ticket, and snacks and drinks (non-alcoholic) the Brooklyn Ski Bus is a good value and certainly saves a headache or two. Check out http://www.brooklynskibus.com/ for more information and a calender of trips.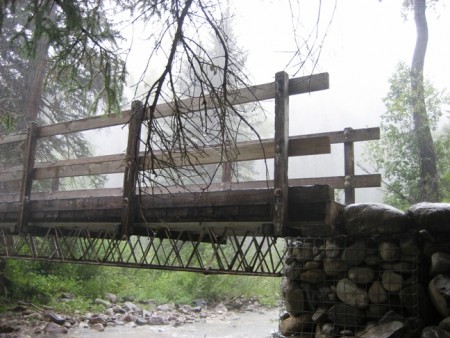 At Adventure Insider, we really look for adventures that are (to use a cliché) off the beaten path. We don't want to cover the same trips that every other publication and website cover, and we really like our solitude.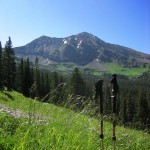 This past summer, this desire led us to the Raggeds Wilderness, near Crested Butte, Colorado. There are literally hundreds of great places in Colorado for a multi-day backpacking trip, but what intrigued us about the Raggeds is that there is not much written about the area. In fact, we had a little difficulty finding which trails would meet our collective skill level (intermediate), and provide the great escape we really love. Both of those requests were answered with the route we chose. Starting from just outside the Erickson Springs  campground (38.954157°,-107.270606°), we headed up the Dark Canyon Trail (#830). Our plan was to try to make our base camp near the beginning of Oh Be Joyful Pass trail on Silver Basin Trail (#836). Unfortunately there had been quite a bit of rain (and a few good showers that first day), so our first 6 miles were pretty slow going. By the time we got to our first big ascent "Devlis Stairway" (38.949329°,-107.192316°) the ground was muddy, sloppy, and almost impassible. Once we got up this ascent the sun was already starting to fade, so we decided to call it a night.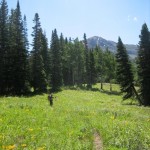 The next morning was much drier, so before long we were at the intersection of the Dark Canyon trail & the Silver Basin Trail. We were planning to head up silver basin trail to our base camp at the bottom of Oh Be Joyful Pass (OBJ) trail. Fortunately we picked up the Trails Illustrated map (Kebler Pass/Paonia Reservoir #133) that pointed out the fact that our original base camp was no where near water, so we decided to continue up Oh Be Joyful Pass trail to find a good spot. ~|~[caption id="attachment_741" align="alignleft" width="150" caption="Heading up the trail"]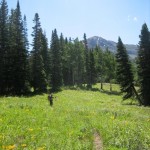 Not far along the OBJ trail is a good size ridge with a great overlook to the valley below. We decided this would make a great stopping point (Base Camp: 38.937108°,-107.142046°) for the night since we needed to get some video & photos for reviews on several products (see MH Helion Tent Review &
Therm-A-Rest Neo Air Review
).  Although we didn't make it, if you have the time I highly recommend you summit Oh Be Joyful pass (38.939714°,-107.115604°).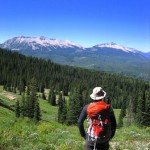 The downhill part of our trip went pretty quickly, but there were plenty of great views on the way down. The last 3-4 miles are very popular for those with horses, so watch your step. After getting back to the car, it was a short 20 minute ride to retrieve the FJ at the north parking area, and then back through Crested Butte to Gunnison for steaks and beer.
How to get there
To hike this trip from North to South (as we did) take CR-12 north from Crested Butte (you can also get to CR-12 from the north off of CO-133). You can also hike from south to north, which is less steep than our route.
Permits/Regulations
No permits are required to hike in the Raggeds Wilderness. Review all wilderness regulations for restrictions.
Outfitters
Gunnison is the closest town with several backpacking / outdoors shops. You'll be able to find anything forgotten or missing there. Expect to pay a small premium for goods purchased in a mountain town.
Summary
This is a great trip to get away from the loads of people in many of Colorado's back country areas during peak season.  You'll experience several types of terrain that can be challenging at times. We're looking forward to exploring this area again in the future.
Quick Info
Location:
Raggeds Wilderness, Colorado, USA (
Info
)
Permits:
None required.
Distance:
18mi (But several trails offer shorter/longer routes)
Difficulty (1-10):
Our route was intermediate (5-6)
Maps:
Kebler Pass/Paonia Reservoir Trails Illustrated #133. (
Buy
)
Download
Google Earth KML
[geo_mashup_map]