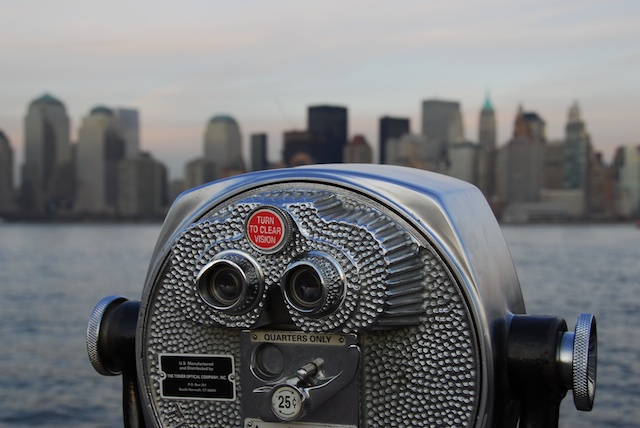 Your first visit to New York City can be an intimidating experience.  NYC is big, fast, and unlike any other city in the world -- a true urban adventure. Just like any other adventure, the key to making your trip an enjoyable and exciting experience is to arm yourself with some knowledge before you go, make a plan, and leave a little room in that plan for the unexpected. This beginners guide should help get you pointed in the right direction.
Geography and Layout
I often describe NYC as a country of it's own, complete with states (the boroughs), and towns (neighborhoods).  New York City is composed of five boroughs.  Brooklyn, The Bronx, Manhattan, Queens, and Staten Island. Although each borough has great things to see, you're likely to spend most of your time in Manhattan (referred to as "the city" by locals).  Manhattan is broken into many neighborhoods: the Upper West Side, Lower East Side, Murray Hill, and the Financial District to name a few.  Don't be overly concerned about those, just know they exist. The streets in Manhattan are laid out in a grid pattern.  Avenues run North-South and streets run East-West (see map below) with higher numbered
streets
to the North (uptown) and higher numbered
avenues
to the West.  This can make it quite simple to figure out which way to walk once you understand the pattern.  That said, below 14th St, things start to get to get a bit more confusing, and the whole of lower Manhattan is a jumble of named streets and tiny blocks. A map is key, and you may find yourself walking a block or two out of the way to figure out exactly where you are. There are also several NYC map applications for the
iPhone
that you may find helpful. Isn't technology wonderful?
Getting There
Although it is
possible
drive into New York, it's not
recommended
.  Bridge and tunnel tolls are deliberately high to discourage people from adding to the traffic congestion in Manhattan, street  parking is extremely limited, and parking garages can be quite expensive. Navigating the city via the extensive network of buses and subway trains and the occasional taxi is not only much cheaper but also is often much quicker. So, it's probably not surprising that we recommend getting to the city by plane or by train.
Airplane
There are three major international airports that service New York City: Newark, La Guardia, and John F. Kennedy.  Newark is located in Newark, New Jersey whereas La Guardia and JFK are located in Queens (a borough of New York City).  These airports are major hubs for many popular airlines, and JFK is a popular point of entry for many international flights. So, flights are easy to find and deals can be had if you're willing to spend some time shopping around.  When shopping for flights most websites will allow you to use "NYC" as the destination which will generally search all three airports.
Be careful however as searching for a round-trip ticket using this method will sometimes generate results that have you arriving into one airport and departing from a different one.
Transportation to and from each airport requires the use of trains or a taxi.  The information below should get you started. If you're coming in by train
From Newark you will need to ride the AirTrain to "Newark Liberty International Airport" stop where you can transfer to an NJ Transit train bound for Penn Station in Manhattan.  Be aware there is also a Penn Station in Newark and you may need to change trains there.  Train tickets are purchased at NJ Transit ticket machines and normally include the AirTrain and NJ Transit fares.
From La Guardia you will need to take a bus.  The M60 bus will take you to 125th Street in Manhattan where you can get on a number of subways.
From JFK you can take the AirTrain.  The AirTrain connects with the New York City Subway "A", "E", "J", and "Z" lines.  The AirTrain connects with the "A" at the Howard Beach station.  In order to get to the airport using this method you must be on a "Far Rockaway" train, not "Lefferts Boulevard".  Connection with the "E", "J", and "Z" lines is at the Sutphin Boulevard station.  You can also connect to the Long Island Rail Road to Penn Station.
Of course cabs are also an option from all airports.  Although the price can be high for a cab it will save you considerable time and headache, particularly if you have much baggage or people as there is no additional fee for additional passengers.  Avoid drivers inside the terminals and in Newark negotiate your fare beforehand as the taxi operators are not as regulated as in New York.  Currently yellow cabs charge a flat $45 from JFK to any point in Manhattan.  While in the taxi stand line consider asking others where they are headed.  It's a great way to reduce the cost of the cab and make new friends.
Rail
Amtrak serves New York Penn Station, located in the Midtown Manhattan.
Driving
Although not recommended, driving is an option.  I-95, I-80, and I-78 all come into the city via the Holland Tunnel, Lincoln Tunnel, or the George Washington Bridge.  Tolls can run upwards of $8 for the river crossing alone and traffic can be devilish.
Where to Stay
When looking for a hotel be cautious, some aren't what they seem.  Consult a credible source before booking your accommodations.  Staying with someone you know in the area is always a great bet or for those more daring
couch surfing
is always an option.  If you want to have a great experience and don't mind a little money for it check out the
Kimpton Hotels
, you can even
bring your four-legged traveling companion
.  In addition there is a free wine hour every evening.  If you are looking to go on the cheap,
NYC also has numerous hostels
to choose from.  Outside that, there are literally thousands of hotels to meet most people's taste and budget.

Getting Around
New York City is served by a great mass transit system consisting of 660 miles of subway track and 208 bus routes that serve some 7.6 Million people daily.  Most subway lines and bus routes run 24/7 with reduced service during late night, holidays, and weekends.  A free subway map can be picked up at a manned ticket booth is any subway station.  Because the subway can be a little intimidating the first time you ride here are a few tips for your trip:
Know the difference between local and express.  Express trains don't make all stops.
Read the signs.  When transferring trains signs will point you in the right direction.
When ascending or descending stairs or an escalator, stay to the right.
Be ready to exit.  During rush hour the trains can be very full.  Don't decide at the last moment you need to get off.
Know the stop before and after the one you want.  This will help you prepare and also serves as a backstop if you happen to miss your stop.
When getting on a train, do not stand in front of the doors.  Stand to the side and let people off before you board.  Trust me it's quicker.  Also, when exiting don't stop and look for signs/maps until you are well clear.  This just slows down the people who know where they are going.
Knowing the layout of Manhattan streets and avenues can aide your subway exit.  Many exits are marked with the intersection and the side of the street it will come up on.  Not only will this aid you in using the right exit but you won't have to ask for directions.
If you are not sure of something, ask.  New Yorkers have a reputation for being rude but will generally help if simply asked.
NYC is also known for yellow cabs.  There are more than 13,000 yellow cabs in the city and your chances of getting one on a cold rainy night are slim to nil.  However, most other times it's not a big problem.  Yellow cabs are well regulated and rides will always be metered.  Less than $10 will get you a few miles and there is no charge for additional passengers.  Again, a few tips:
Be clear on where you want to go.  The drivers may not know the name of the restaurant so give an intersection or street with cross streets. For example, if you're headed to Katz's Delicatessen for some pastrami on rye and a glimpse of the table from that famous scene in 'When Harry met Sally' you can ask your cab driver to drop you at Houston (pronounced HOW-stun, not like that city in Texas) and Ludlow.
Available cabs will have the number on the top of the cab illuminated.  If it is extinguished it is occupied and if the outer lights are on the driver is off duty. Check out this post on Abroad'r View for more on cab tips and etiquette.
Be ready with payment.  All yellow cabs now accept credit cards, but be ready with cash just in case.
Beyond that NYC is a great walking city,
so wear comfortable shoes!!
If you're armed with a decent map and willing take to the sidewalk you'll be rewarded with the discovery of smaller 'local' establishments that are off the beaten tourist path.
What to See
Food
New York is known to have some of the best restaurants on the planet.  There are plenty of very well known high end restaurants such as Per Se, Jean Georges and Daniel but there are thousands of restaurants that offer some of the best food at a much more casual atmosphere and more reasonable price.  Below are my personal favorites that I would recommend to anyone.  Keep in mind that inexpensive in NY may be skewed compared to what you are normally accustomed to.
Inexpensive
Not as Inexpensive
Blue Smoke - A phenomenal BBQ joint run by the famed Danny Meyer.  Live jazz is played seven days a week downstairs.
The Little Owl - Casual yet upscale dining in Greenwich Village (a neighborhood on the lower east side).
Blue Hill Farms - A restaurant inspired by an upstate farm that sources their food only from local farms.
This is just a quick list.  Check out
Yelp
,
CitySearch
and
Serious Eats
for more great places.
Pizza
Because it's such a popular question I will devote a section to Pizza.  One thing that is not and never will be decided is where the best pizza is in NYC.  Instead, decide for yourself.
Lombardi's - The first licensed pizzeria in NYC.
John's - Avoid the one in Times Square and head to the original on Bleeker Street.
Grimaldi's - Under the Brooklyn Bridge (on the Brooklyn side) this small place offers some of the best 'pie' in the city.
Keep in mind, none of these places accepts reservations, you can't get a 'slice' and it's generally cash only.  It is, however worth it.
Drinks
Places
There are tons of guides filled with information on what not to miss and surely you have your own list.  Here are a few places I take people who come visit.
Resources
Google Maps (including mobile) give transit directions in NYC and if you do have a mobile version for your phone will help with walking directions as well.  There are numerous guides as well.  One favorite of mine is the Not For Tourist (NFT) Guide (
Buy
).
Links
Special thanks to Elizabeth and Fu for contributions to this article.
[geo_mashup_map]
Check out this hilarous video on cross-country snowboarding, a sport that is sure to take off. http://www.youtube.com/watch?v=4w7sVSMbjyM