Glacier National Park
Details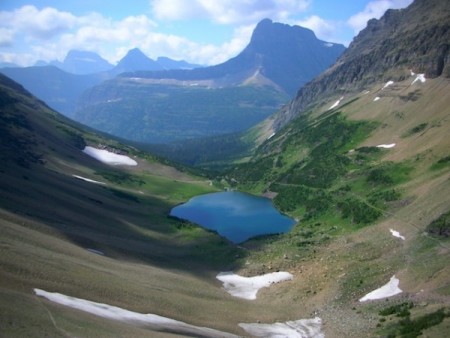 I headed off to Montana with the plan of backpacking the Coal/Nyack Creek Loop in the southern region of Glacier National Park. I had seen from the online trail reportsthat there had been some avalanches in the area resulting in quite a few trees down and waist high river crossing about a week before my visit. What I failed to realize from the report was the sheer numbers of trees that would have to be negotiated in order to complete the loop. The rangers at the permit office put the number at somewhere in the 'many hundreds'. With that bit of information, we changed our plans. The ranger then helped set up a trip that he was sure would be worth the effort. Worth the trip it was! Let me start by saying I, as a general rule, try to avoid trips that require a lottery, are over-populated, and even require a permit if possible. That said, the trip to Glacier was absolutely worth the hassle of the permitting process. It was a fortunate set of circumstances that we happened to be at the west end of the park and started our backcountry the following day on the east end of the park. This required us to drive the Going-to-the-Sun Road that traverses the park east-west and is more than likely the best 50 miles you will ever drive. Mountain goats, waterfalls, glacial valleys, and wild berries are just a few of the wonderful things you will experience on this trip. It is worth the trip even if happens to take you out of the way.
Day 0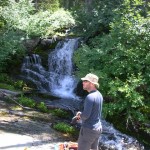 After dropping our car at the Chief Mountain Trailhead (our terminus) we took the shuttle to Many Glacier and acquired a hiker/biker campsite. Although these are communal campsites it is best to inquire about them before dropping you car, cost: $5/person. Pizza and a couple beers that evening at the Many Glacier General Store hit the spot and the next morning we hit the trail. Now, before I divulge our itinerary I want to point out that there are so many remarkable places in Glacier that almost any combination of campsites is worth the trip. Also keep in mind the big passes that can be downright intimidating are some of the most magnificent places to see.
Day 1
Over Ptarmigan pass and through Ptarmigan Tunnel (yes, it's an actual tunnel). Upon exiting the tunnel you will see Elizabeth lake far below you. Continuing down the trail will bring Helen Lake into view along with many peaks sporting glaciers and huge waterfalls. Further down the trail we merged with the Continental Divide Trail and eventually arrived at Elizabeth Lake (Foot) Campground. From there it was a magnificent hike to Elizabeth Lake (Head) Campground for the night. Here there is a little sandbar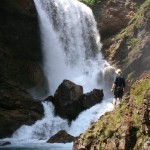 that you can ford out to for a little relaxation sitting in a glacial valley surrounded by numerous peaks and ridges. In hindsight I think continuing another couple miles to Helen Lake Campground would be worth the little extra effort.
Day 2
Heading back towards the foot of Elizabeth Lake and continuing to Cosley Lake Campground. On the route we passed Dawn Mist Falls and were pleased to see a small spur that leads to the bottom of the falls. This spur is only about a tenth of mile long is pretty much flat, making the side trip for lunch and a refreshing dip a no-brainer. The trail is pretty flat and wandering until we reached a river fording about a half mile from the campground. After the ford and re-installing our feet in our shoes we proceeded the last half mile where we saw a black bear scavenging berries and decided to help ourselves as well, after we were well clear of the bear. Cosely Lake sits at the base of a cliff and is fed by the run off from Stoney Indian Pass. A fishing pole here may serve as one of the better items to bring. Here, each campsite is along the water with a thin stand of brush and trees and a personal trail leading to the water. Deer are very prominent in this area and tend to crave the salt we bring along. I caught a doe licking the handles of my trekking poles numerous times even as I approached her.
Day 3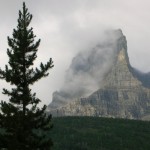 We continued west a short distance to Mokowanis Junction Campground. Due to the short day we decided to take a day hike after lunch and a nap. Mokowanis Lake is reported by one guide we met, to be a great spot for a swim. Stoney Indian Pass offers glacier pools coupled with waterfalls and steep climbing. We chose the pass, and we not at all disappointed. Huge waterfalls and a dip in a 58° glacial pond was what the doctor ordered. This was by far the pinnacle of the trip and is what has me wanting to return again.
Day 4
Backtracking day. Heading east now past Cosley Lake a few miles into Gable Creek Campground. Hiking the vistas of the park and picking wild berries to munch on made the day memorable.
Day 5
The end of the road. Heading out to Chief Mountain was the slowest going on the entire trip. Made extremely muddy by the recent rains the trail was tough to negotiate and at times almost frustrating. A steep incline followed by some wandering finishes at the Chief Mountain Trailhead.
Planning
How to get there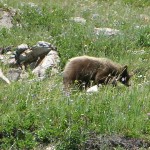 Both Missoula (164 mi.) and Great Falls (203 mi.) are served by major airlines with car rental services available. Destinations closer to the park may be served by smaller airlines or connectors. The drive to park is straight forward although there is some construction on US-93 north of Missoula as of this writing. Another notable is the utterly delicious Montana Wheat located at the junction of US-93 and Hwy 35. There is also a grocery store there for last minute items. Make sure you stop for some Flathead Cherries that are grown in orchards right along your drive and sold at the numerous stands dotting the road.
Permits
Due to the popularity of the park, permits can be hard to come by for Glacier. Advanced reservation lotteries are in effect but a certain percentage of each campground is held for walk in reservation available to day before you wish to start. Due to the high possibility of changes, check the Glacier National Park Backcountry Campingpage for up to date information.
Outfitters
Many outfitter near glacier are more than happy to help you find that item you forgot at home. If you need a place to get a new tent, get a new sleeping bag, or get that new Therm-a-Rest Neo Air you can stop by REI in Missoula.
Summary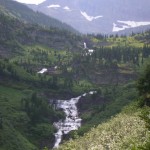 If Glacier isn't on your list, it should be. If it is, it should be higher. Glacier National park is truly an amazing place to visit, it's just a shame it's so popular as it makes it tough to keep to the 'insiders'.
Quick Info
Location: Glacier National Park, Montana, USA Permits: Required. By lottery or walk-in (see above) Distance: Varies Difficulty (1-10): Varies Beta: Glacier N.P. Trails Illustrated. Available for the whole park and in larger scale for sections of the park. (Buy) http://www.nps.gov/glac [geo_mashup_map]