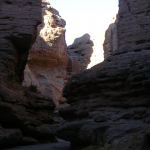 Located about an hour south of Albuquerque on BLM land, San Lorenzo Canyon offers a short & easy trip for those looking to backpack with someone inexperienced, children, or anyone just looking for a simple trip.  There is only about a mile and a half of canyon before the Sevilleta National Wildlife Refuge (which is off limits without permission), so the canyon offers the possibility of a Friday night hike in allowing almost two full days of day hiking.  Campsites with a nice view can be found with an eye upward and the willingness to do a little light scrambling.  Water is tough to find so plan accordingly during the drier seasons.
Directions: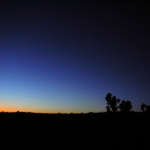 Take exit 156 off I-25 for Lemitar and head to the west to the service station to stock up on beef jerky and water.  When your finished shopping take the service road North that runs parallel to I-25, on the West side approx. 5 miles.  When the road makes a sharp turn to the East take the left on a maintained dirt road.  In approx. 2 miles you will see a sign on the right to San Lorenzo Canyon. If you are in a four wheel drive take this road as far as you see fit (if you are so inclined you can drive all the way up the canyon).  If you are in a two wheel drive back up to one of the dirt roads and head up a little ways until you find suitable parking.  Wherever you park, just head West in the wash to the mouth of the canyon.
Quick Info
Location:
Aevilleta National Wildlife Refuge, New Mexico, USA
Permits:
None
Distance:
1.5 miles one-way
Difficulty (1-10):
2
Beta:
http://www.explorenm.com/hikes/SanLorenzo/
http://www.blm.gov/nm/st/en/prog/recreation/socorro/san_lorenzo_canyon.html
[geo_mashup_map]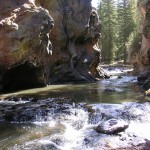 If barren desert is what comes to mind when you think of New Mexico, think again.  In the Jemez mountains about 45 minutes from Santa Fe (in the National Forest of the same name) runs the Jemez River.  With tons of trails in the area, the hiking and backpacking opportunities are almost endless.  Add to that the Jemez Falls and the McCauley Hot Springs and the Jemez river makes for great weekend outings with the kids.  Keep in mind the area is quite popular and thus solitude can be a little tricky.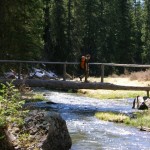 If nothing else you can find a secluded campsite by being a little adventuresome and heading off trail.  There are also some sport climbing routes in the area  along the river if that's your sport. The scenery while driving on US 4  will leave you speechless as well,  particularly to the west. After a nice weekend head to
Cafe Pasquals
in Santa Fe for an absolutely divine brunch.
Quick Info
Location:
Santa Fe National Forest, New Mexico, USA
Permits:
None
Distance:
Many variations
Difficulty (1-10):
3
http://www.fs.fed.us/r3/sfe/index.html
[geo_mashup_map]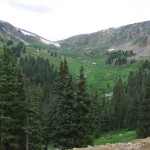 Breckenridge, Colorado is famous for being one of the best skiing/snowboarding destinations in North America. The mountains surrounding Breckenridge offer some of the best snow in the state, and the scenery is second to none. This popular winter destination is well served by the many summer activities available in Breckenridge. From alpine slides to real Colorado mountain biking, Breckenridge has something to offer everyone. One of my passions is scenic off roading, so last September, we decided to head to Breckenridge and find a few off road trails. We went with 2 FJ Cruiser's, a Jeep Wrangler, and a Chevy Avalanche for the run. We started off simple and decided to get Boreas Pass & Georgia Pass out of the way.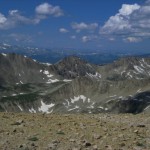 Boreas Pass is a very easy dirt road, any car will be just fine on this pass during good weather. The south side of Georgia Pass is about the same, but once we arrived at the top we found a very challenging trail. After a quick jaunt up Glacier Ridge, we headed down the north side of Georgia Pass (Rd 355). It became exciting right away, with a rather large rock blocking the trail. The Jeep decided to take the more difficult line, but the rest of us took the easier route around the rock. We crawled our way down the mountain, trying to say on the right trail.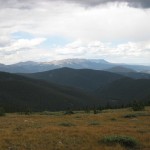 We eventually made it down to Swan River just in time for the rain to begin. We headed back to our little campsite (well off the beaten path, GPS 39.5354, -105.9006), packed up, and headed for home. Although we didn't get to hit all the trails in the area, it was a wonderful trip! If you're interested in experiencing the Breckenridge area by 4x4, I've put together a Google Earth layer of the major off-road trails.
Outfitters
There's only one Jeep Rental place in the Breckenridge area: Mountain High Jeep Rentals. If you're visiting from elsewhere in Colorado, there are many other Jeep Rentalservices.
Where to Stay
Breckenridge & the surrounding area is a popular tourist area, so you'll have no problems finding a place to stay. There are dozens of great hotels, condos, and house rentals available. Make your reservations as far in advance as possible to get the best rate and the best room.
Food in Breckenridge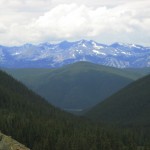 While we brought most of our food to the campsite with us on this trip, Breckenridge has plenty of great places to eat. There's a little known pizza place on the north side of town, in the City Market plaza called Windy City Pizza. If you're on the main drag, we've had really good luck with the Bubba Gump Shrimp Co., and Downstairs At Erics. Don't forget the infamous Breckenridge Breweryif you're a microbrew fan.
Quick Info
Location:
Breckenridge, Colorado, USA
Season:
Spring to Fall
Permits:
None
Distance:
Varies
Difficulty (1-10):
Varies
Beta:
Guide to Colorado Backroads (
Buy
)
[geo_mashup_map]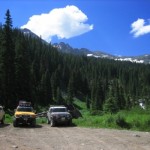 Wow pretty much sums it up. The First Annual FJ Summit was held in Ouray, CO last July. It all started when several people from a FJ Cruiser Forums website started brainstorming about a meeting of FJ Cruiser owners nationwide. It wasn't too long before everyone voted on the location for this first event, and Ouray was chosen. Why Ouray? Well, if you haven't been there you don't know what you're missing. The 'Switzerland of America' is a beautiful small town in southwestern Colorado surrounded by the San Juan mountains. What makes Ouray so special to the off road community is the trails. Hundreds of miles of the most scenic, breathtaking, and awe inspiring off road trails in the country. This is not just a visitor guide bullet, the beauty can't be described with just words.
Getting There
My wife, Angie & I met Kent & John (from London, Ontario, Canada), and our friend Stan & family (from Highlands Ranch, CO) for the drive up. This is my Quick Info Box Content Welcome!We took the scenic route through the mountains from Colorado Springs. We first headed out US-24, over Wilkerson Pass and down to beautiful Buena Vista & the Collegiate Peaks area. From there, we proceeded over Monarch Pass, past Gunnison and the Blue Mesa reservoir (the largest body of water in Colorado). Finally, we headed south from near Cimmaron, and over Owl Creek Pass. Once we reached US-550, we turned south and headed into Ouray.
The Alpine Loop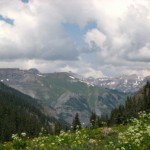 For the first day of the trip, we decided to do Alpine Loop, which is rated a 3-4 (out of 10) in difficulty, and is quite long. There were a total of 8 rigs in our group and we were the last group to leave that morning. The Alpine Loop (which consists of Engineer & CinnamonPasses) is truly amazing. The first few miles of the Engineer Pass trail are the most difficult and give this trail it's rating of a 4, so this area can be challenging for those new to off roading. After cresting Engineer Pass, the trail is easier and the pace picked up some. Near the top of the pass there is a great pull off that's an overlook of the entire range. At over 13,000 feet, this spot is one of the most amazing views you'll find in the Rocky Mountains. Be careful though: the altitude can really start to have negative effects for those not used to it. Cinnamon Pass is a much easier ride than Engineer; we saw quite a few passenger cars & mini-vans on this leg. The summit is over 12,000 feet and nearly as impressive as Engineer. Although the Alpine Loop is extremely long, it's well worth the time you'll spend.
Imogene Pass
On Saturday morning, we headed out at about 9am with a group of 8. Destination: Imogene Pass. After the quick drive up toward Yankee Boy Basin, we made the left onto the Imogene Pass trail. We were immediately greeted with an optional water crossing. We plowed through 24" of water without skipping a beat. The first half of Imogene was a BLAST! There were plenty of decent rocks, water crossings, and puddles to keep us entertained. The views were magnificent as well, this area of Colorado almost cannot be described. Due to Kent's unfortunate issues with altitude, I was asked to drive his truck down to Telluride so we could get him to medical attention. We moved down the mountain pretty quickly, so we didn't get many photos of our descent. We arrived in Telluride a little after 3pm where Kent got treatment for his altitude problems. He was feeling much better by the next day.
Last Day In Ouray
At about 9am, we arrived at the parking lot where a group photo was planned. We ended up in the 3rd to last row, so our FJ didn't stand out much in the crowd. Still it was a very cool experience. Almost 200 FJ Cruiser's in one photo – very neat. The photo came out pretty good I think. We invited Stan & Mike to run with us up to Yankee Boy Basin, since we didn't make it up the day before. It turned out to be not that exciting, mostly because of the crowd of people all around. There were rental Jeeps, Subarus, and other all wheel drive vehicles everywhere. Everyone was busy snapping as many tourist photos as they could. That kind of crowd can make the scenery not so scenic.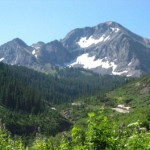 So, since we didn't spend any time at Yankee Boy, we decided to hit the first half of Imogene again. With the water crossings, water falls, and fun rocks, we wanted to make sure Stan & Mike got the chance to check it out. We made it up to the cabin area of Imogene pretty quickly, got a group photo, and headed back down to Ouray. It was lunch time, so we strolled down main street in Ouray & ended up at the Gold Belt Bar & Grill for a quick bite. We all ordered & decided to eat outside since it was such a wonderful day. The food was decent, and a reasonable price. Not fine dining, but a good quick lunch. After lunch we aired up & headed north out of town.
A Great Time
The First Annual FJ Summit was a HUGE success. Everyone had a great time and our outstanding Toyota FJ Cruisers got a good workout. Ouray, Colorado is one of the most scenic and adventure-filled towns in the Western U.S. If you've been there: GO BACK, if you haven't: MAKE PLANS. Keep in mind that the summer is a very busy time of year, so make your travel plans far in advance. Also remember that in addition to the FJ Summit, there are Jeep Jamborees and several other large events held in Ouray every year. You'll want to know what's happening in Ouray during your visit. Check the Ouray Event Calendarto find out more.
While our trip focused on off-roading, there are plenty of other activities including Hiking, Mountain Biking, and Mine Tours. In the winter months, you can observe or try out the world famous Ouray Ice Climbing Park, or head up into the mountains on cross-country skis or snowshoes.
Where to stay?
When we're in Ouray, we always stay at the Box Canyon Lodge. They have fair rates, clean rooms, and excellent service. We also really enjoy their 2-4 person authentic wood barrel hot springs. If rooms are not available at the Box Canyon, there are plenty of other hotels available.
Outfitters
If you don't own a 4wd vehicle, you can still experience the off road trails in the Ouray area. There are several Jeep Rental services. We recommend Switzerland of America Jeep Rentals. They have excellent service, very good vehicles, and reasonable rates. If you're not inclined to drive a 4x4, consider taking an off-road tour.
Quick Info
Location:
Ouray, Colorado, USA
Season:
Spring to Fall
Permits:
None
Distance:
Varies
Difficulty (1-10):
Varies
Reference:
Guide to Colorado Backroads (
Buy
)
[geo_mashup_map]