Breckenridge, Colorado - Off Road
Details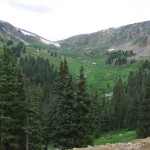 Breckenridge, Colorado is famous for being one of the best skiing/snowboarding destinations in North America. The mountains surrounding Breckenridge offer some of the best snow in the state, and the scenery is second to none. This popular winter destination is well served by the many summer activities available in Breckenridge. From alpine slides to real Colorado mountain biking, Breckenridge has something to offer everyone. One of my passions is scenic off roading, so last September, we decided to head to Breckenridge and find a few off road trails. We went with 2 FJ Cruiser's, a Jeep Wrangler, and a Chevy Avalanche for the run. We started off simple and decided to get Boreas Pass & Georgia Pass out of the way.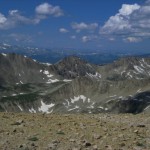 Boreas Pass is a very easy dirt road, any car will be just fine on this pass during good weather. The south side of Georgia Pass is about the same, but once we arrived at the top we found a very challenging trail. After a quick jaunt up Glacier Ridge, we headed down the north side of Georgia Pass (Rd 355). It became exciting right away, with a rather large rock blocking the trail. The Jeep decided to take the more difficult line, but the rest of us took the easier route around the rock. We crawled our way down the mountain, trying to say on the right trail.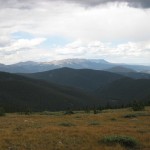 We eventually made it down to Swan River just in time for the rain to begin. We headed back to our little campsite (well off the beaten path, GPS 39.5354, -105.9006), packed up, and headed for home. Although we didn't get to hit all the trails in the area, it was a wonderful trip! If you're interested in experiencing the Breckenridge area by 4x4, I've put together a Google Earth layer of the major off-road trails.
Outfitters
There's only one Jeep Rental place in the Breckenridge area: Mountain High Jeep Rentals. If you're visiting from elsewhere in Colorado, there are many other Jeep Rentalservices.
Where to Stay
Breckenridge & the surrounding area is a popular tourist area, so you'll have no problems finding a place to stay. There are dozens of great hotels, condos, and house rentals available. Make your reservations as far in advance as possible to get the best rate and the best room.
Food in Breckenridge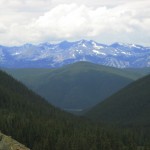 While we brought most of our food to the campsite with us on this trip, Breckenridge has plenty of great places to eat. There's a little known pizza place on the north side of town, in the City Market plaza called Windy City Pizza. If you're on the main drag, we've had really good luck with the Bubba Gump Shrimp Co., and Downstairs At Erics. Don't forget the infamous Breckenridge Breweryif you're a microbrew fan.
Quick Info
Location:
Breckenridge, Colorado, USA
Season:
Spring to Fall
Permits:
None
Distance:
Varies
Difficulty (1-10):
Varies
Beta:
Guide to Colorado Backroads (
Buy
)
[geo_mashup_map]