Lost in Peru
Details
This article originally published in the September 2010 issue of Adventure Insider Magazine. The plan: a seemingly simple-to-navigate map that outlined hike and bike paths along the Sacred Valley including the villages of Ollantaytambo, Urubamba, Maras, Moray, and Salinas, a rusty mountain bike (which would have made my brother's sixteen year old BMX look like a Bianchi Pista) I rented from the local hostel owner in Ollantaytambo for the bargain price of $15 a day, a rather ambitious plan to mountain bike to Maras, the ruins of Moray and continue onward to uncover the salt pans of Salinas and me, a native New Yorker and avid solo traveler, armed with a decent grasp of Español and not the slightest bit of mountain biking experience.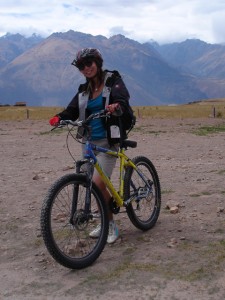 On day 6 of my Peru adventure, I arrived in the village of Ollantaytambo, located at the northwest end of the Incas' ancestral homeland in the Rio Urubamba Valley, popularly known as El Valle Sagrado (the Sacred Valley). The Sacred Valley is fed by rivers which descend through adjoining valleys and gorges, and contains numerous archaeological remains and villages, most notably the Inca citadels of Pisac and Ollantaytambo Dominated by a massive Inca fortress above, Ollantaytambo is the best surviving example of Inca city planning; it has an orthogonal layout with four longitudinal streets crossed by seven parallel streets (think New York City's grid street plan, only on a much smaller scale, and with narrow cobblestone streets). It also serves as a ubiquitous stopover in a quiet town for weary travelers en route to catch trains arriving from and departing to Aguas Calientes, better known as Machu Picchu Pueblo. A set of sunken terraces - 60 meters wide and up to 15 meters below the level of surrounding terraces - start south of Ollantaytambo's Plaza de Armas, stretching all the way to the Urubamba River, about 700 meters. After having explored Ollantaytambo's extensive agricultural terraces, which start at the bottom of the valleys and climb up the surrounding hills, I schlepped my 80 liter pack through town in search of a hostel according to my usual method of selection: leaf through the Lonely Planet guide, and then head over to the nearest recommendation. Unfortunately, said hostel was fully booked, so the schlepping continued until I reached Chaska Wasi, a lovely lodge with basic rooms, electric showers (a must for those cold Andean nights!), and much to my surprise, bicycles for rent. To prepare for the next day's mountain biking adventures, I treated myself to an elegant fried Peruvian chicken dinner, two glasses of Chilean Cabernet Sauvignon, and a Pisco cocktail at Kusicoylloy, a stylish underground café adorned with golden décor, a tempting wine list, high culinary standards, and a convenient location offering views of the Incan ruins. The next morning, I set off for Moray. Admittedly, the journey to Moray from Ollantaytambo was itself an adventure, contrary to what my guide book had to say about the whole affair:
'Refreshingly off the beaten path, though not that challenging to reach. Catch one of the frequent buses(combi) from Urubamba's bus terminals to Chinchero . Ask driver to drop you off at the turnoff for the road to Maras. Taxis usually wait at this turnoff to drive tourists to Moray.'
To get to Urubamba, I rode a shared taxi (collectivo) with my mountain bike, helmet, and air pump crammed in the boot. Urubamba might best be described by the following: "an unappealing but necessary transit hub of little historical interest; it's surrounded by beautiful countryside and makes a convenient base from which to explore the extraordinary Salinas and terracing of Moray". One Maras-bound bus and Moray-bound private taxi later, I finally arrived at the ruins of Moray. The impressively deep amphitheater-like terracing of Moray is indeed a fascinating spectacle. Different levels of concentric terraces are carved into a huge earthen bowl that appear like modern crop circles, ironic considering the use of the terraces.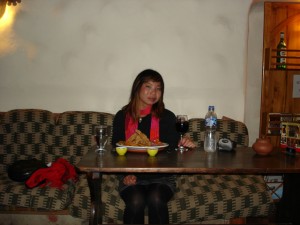 I should mention that I was warned by my taxi driver en route to Moray not to attempt to bike to the salt pans of Salinas from Moray due to the steep and somewhat un-kept nature of the trails but should instead combine a visit to Moray with Salinas via taxicab; However, being proud, stubborn, and cynical (quintessential New York traits), promptly ignored him, assuming that he mistook me for a typical American tourist and therefore tried to rip me off for cash. I parked my bike outside the Moray archaeological site and was greeted by a friendly and helpful guide, Jose, who gave me a tour of the Inca ruins, explaining the significance of the enormous terraced circular depressions –the largest of which is about 30 m (98 ft) deep – and how they were used as agricultural and spiritual zones by the Incas. He also helped me to navigate the map that outlined the path to Salinas from Moray, confirming that there was indeed a trail (camineto) in the back roads of the Andes that one could take that would lead directly to the extensive terracing salt areas of Salinas, bypassing the rather unpleasant asphalt road that must be shared with vehicles headed to Maras. He instructed me to turn left at a 'blue sign post,' although, given my elementary grasp of Spanish, I mostly understood 'blue' (azul) something and nodded as he pointed to a bright blue spot in the distance, on the left hand side of the road. As I set off for the bright blue spot across the distance, I recall another American tourist, fresh off the bus, saying to me, 'Wow, you must be real spontaneous and adventurous – setting off by yourself on a bike into the mountains like that. You go, girl!' Spontaneous – or incredibly stupid, as I had realized shortly after setting off that I was running low on water and was crap at reading maps or orienteering myself, and probably should have taken a compass – or better yet a guide – along with me.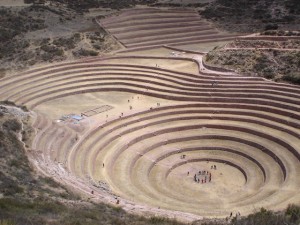 The first fifteen minutes of riding seemed straightforward enough, although not particularly scenic, as I cycled down a dusty, narrow asphalt road with passing trucks and cars. After passing by a number of barn-like doors and sign posts on my downhill ride, I began to lose sight of the bright blue landmark that indicated the turnoff to reach the back roads, and began to worry. Even I, as directionally challenged as I am, realized that something was not quite right and the road on which I was riding would simply lead me back to Maras, out of the way to the salt pans of Salinas. Numerous attempts to ask locals about the best way to get back on track to the Salinas-bound camineto were met with confused faces and incomprehensible Spanish/ Quechuan (the language of the indigenous people of the Andes), with fingers pointed in all sorts of directions – abajo (down there!), izquierda (to the left!) derecha (to the right!), derecho (keep going straight!). At least all confirmed that the road I was on did indeed lead back to Maras, and that my best bet was to cycle back towards Moray to orient myself. As so I did, after about 2 hours of riding, feeling pangs of defeat, dehydration, and hunger. On the way back to Moray, I spotted something blue, but was too paranoid at this point to trust my own instincts. So instead I sat right below the blueish thing and munched on the lunch consisting of an apple and empanada I had brought with me while I gathered my thoughts and resolved, reluctantly, to return to Moray and admit to Jose that I had somehow gotten lost. Still defeated and dehydrated but no longer hungry, I rode back on the asphalt road to Moray, running into a young local boy on the way. I showed him the now-not-sosimple- to-navigate-map and he confirmed the existence of a camineto that bypassed the asphalt roads but delivered some not-so-pleasant news: there was not only a camineto, but a network of them – quite complex and convoluted to navigate, and using the trails to get to Salinas and then Urubamba would alone take several hours. The problem was that I only had about a couple to spare, as I had to get back to Ollantaytambo in the evening to catch a Macchu Picchu-bound train. When I had reached the ruins of Moray for the second time that day, Jose, my guide, was quite surprised not only to see me again but also to hear that I had trouble locating the turnoff, which he confirmed was indeed the bright blueish sign post under which I had lunched. I then relayed the story about the intricate network of caminetos that the young boy had told me, and Jose's response, though somewhat laughable in hindsight, struck a bit of fear in my heart at the time: 'It's easy – just take the one in the middle. That will lead you to Salinas. Actually, maybe you should just bike back to Maras and then head to Salinas from there so that you don't get lost again.' Again, the determined and somewhat stubborn New Yorker in me resolved to find this elusive camineto to see the incredible salt pans of Salinas before I could throw in my bike helmet and call it a day, though the lack of time and increasingly complicated nature of the route was beginning to worry me at this point, New Yorker or not.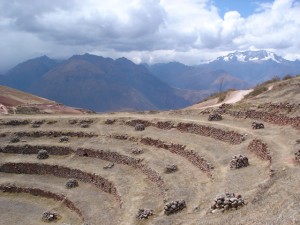 Back on the asphalt road again, I was enthralled to discover that turning left at the blueish sign post thing did indeed lead to a dirt road winding through the Andes. The feeling of autonomy and ecstasy that accompanied the ride through the Andean Mountains was inspiring, and suddenly defeat had washed away, transforming itself into my second wind. This relief was short-lived however, and the trouble began (although arguably, it probably began with the renting of the bike in the first place) when said dirt road led to many dirt roads curving through the mountainside and Jose's suggestion, 'take the middle one' no longer seemed applicable; there were over half a dozen paths and not a soul in sight. Things only worsened an hour later, when I had run out of water and cell phone reception and realized that I had just carried my bicycle up and down the dirt road in a circle, passing by the same familiar puddle of water in an otherwise arid Andean landscape. The sun was getting closer to setting and my time was running out. Sweaty, cold, thirsty and tired from lugging that damned bike up and down the trails in search of any sign of life, I recall having a minute-long panic attack as I tried desperately to retrace my route back and plan the next best course of action. Although I could make out Moray and Maras far in the distance, the grade and complexity of the trails made it difficult for me to cut across to where I had come from. I was no longer concerned with seeing those silly salt pans, but just wanted to get back to Maras before dark and subsequently catch a cab to Ollantaytambo to make my Macchu Picchu train. After hiking back up the path with my bike in tow, I came across a remote Quechuan farm, out of the reach of motorized vehicles, and ran across the field leaving the bike behind so as not to do too much damage to their farmland although still wearing my helmet attempting to communicate in notso- composed Spanish about my plight to get back to Maras in time to reach Macchu Picchu. The Quechuan farmer reacted more kindly than I deserved, replying in a rather relaxed voice, all things considered: 'Ah Maras? That's easy – it's just over there' and offered me some homemade liquor. Certainly I had never encountered this kind of quaint hospitality back in New York (typically, most natives (or at least I) would simply point tourists in the opposite direction of where they wanted to go, let alone be so kind as to offer them a dirty martini). Although I could have used a drink, I politely declined and admitted my shameful lack of navigation skills 'Yes, I have heard that it's easy from a few people now, but I seem to be having quite a time finding this route – would you please show me the way back?,' as I offered him 20 soles ($7) and he offered the help of his son – a sweet young boy named Vidal to accompany me back to Maras.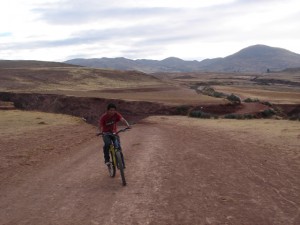 Vidal, eighteen years old and aspiring to study engineering in Cusco, had never met an American before me, and politely pointed out where I should have headed north instead of south to reach Salinas which as it turns out is right at the puddle I've seen all too many times. I laughed at myself a little and admitted that I had suspected that was the point where things had all gone wrong. By now, I had buried any desire to see Salinas so deep that those salt pans were simply dead to me, and I was thrilled and relieved to be greeted by goats and locals in their stylish Bowler hats as Vidal led me safely back to the town of Maras, where he helped arrange a cab for me to Ollantaytambo. Leafing through Lonely Planet 10 months later, I can't help but chuckle to myself when reading:
'From Moray it is supposedly possible to continue walking to Salinas about 6km away and then downward to the Rio Urubamba, which can fill a long but satisfying day. Ask the guard in Moray to point out the faint and not well-used trail, as it can be very hard to find. Most locals recommend backtracking to Maras first.'
Adventurer or not, stubbornness and a lack of preparation might best be left behind on such expeditions. But always pack an open mind, some local language (and map-reading) skills, adequate water supply, a compass, and faith in yourself and others. And although I will return to El Valle Sagrado (Sacred Valley) to pay homage to the salt gods of Salinas, I might take the beaten track (and path of prudence) the second time around and hire a taxi driver to take me to the terraced Inca salt fields on the way back from Moray. Or better yet, bring along a friend with far superior mountain biking and navigation skills than I. And the next time a lost New York City tourist stops me in the street for directions, I'll give her the Quechuan treatment (well, maybe minus the dirty martini offer).
About Jeanne Fu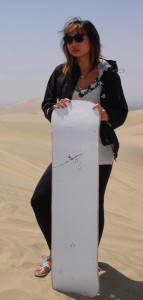 Jeanne suffers from a chronic case of wanderlust and is constantly in search of the next adventure. She has bouldered in France, climbed crags in California, China, and Colombia, surfed shore breaks and point breaks in Costa Rica and Peru, and trekked mountain trails in South Africa and rain forests in Argentina. Born and bred in New York, NY, she spent summers in Shanghai – her parents' hometown – and spent extensive time abroad, studying philosophy and languages in Scotland, India, Germany, and England. A former Fulbright Student Scholar, she earned her B.A. in Philosophy from Colgate University and M.Phil in Philosophy from University College London. She speaks fluent German and Shanghainese, decent Spanish, aspires to brush up on her (now) very rusty French and Italian, and learn Portuguese to prepare for her upcoming surfing and climbing adventure in Rio de Janiero, Brazil. [geo_mashup_map]