This article originally published in the September 2010 issue of Adventure Insider Magazine.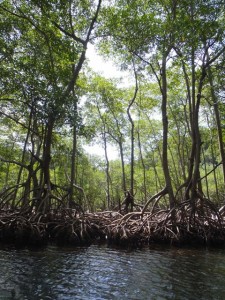 The North Coast of the Dominican Republic is quickly gaining a reputation for being one of the next big adventure spots. With everything from diving to hiking to kiteboarding and windsurfing, it's easy to see why. On a recent trip sponsored by the Ministry of Tourism, I was able to experience some of these activities firsthand. The Samaná Peninsula is a great starting place. It's roughly a 3.5 hour drive from the airport in Santo Domingo, or a 2.5 hour drive from the airport in Puerto Plato. There are quite a few all-inclusive resorts and a couple bars in the town of Samaná on the southern part of the peninsula, but if you are looking for something more low-key, I would suggest staying in Las Terrenas on the northern part. Las Terrenas is becoming more developed, but still has some good hotel options, great restaurants, and public beaches if you want to hang out with the locals. Besides the miles and miles of beautiful beaches, there are two main attractions in this area - Salto de Limón and Los Haitises National Park.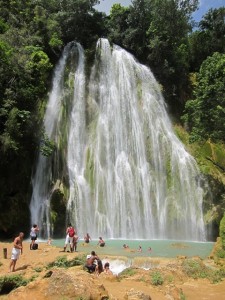 The Limón waterfall is just 1 km away from Las Terrenas, and can be reached by horseback or by hiking the (roughly) 4 km trail through the Dominican vegetation and across crystal clear streams. If you decide to go by horseback, I would recommend Parada Basilio y Ramona (Tel. 829-661- 4137 or email
This email address is being protected from spambots. You need JavaScript enabled to view it.
). Each person gets a horse and a guide will lead you to the 170 foot waterfall where you can swim and cool off. We also found a smaller waterfall along the way that had no people at all and would be great for spending some time swimming alone. There were a couple of other groups at the Salto de Limón, but the swimming hole is so big that there was plenty of room for everyone to take a dip. After our ride, we had a traditional Dominican Republic meal of red beans and rice, vegetables, and tostones (smashed and fried plantains). The ride and lunch costs roughly $20-25 USD. Los Haitises National Park, a protected virgin forest with little road access (it is possible to access with a 4 wheel drive vehicle from the south), is best reached by a 20-30 minute ride across the Samaná Bay by boat. It's becoming a more popular destination, but the number of tourists is limited by the government, so it's unlikely to be crowded.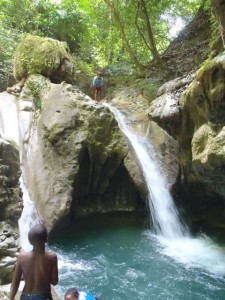 The park looks like something from a movie, with white sandy beaches, lush green forests, and rocky cliffs. Ride through mangroves, and past Cayo de los Pájaros, where hundreds of birds have made their homes. There are several caves throughout the park, etched with pictographs from the Tainos Indians, the original inhabitants of the area. There are several isolated beaches along the coast of the park that you could stop at, or hang out with the fisherman before they head back into town to sell their catch. We visited Los Haitises with Amilka Tours, who will pick you up from your hotel in Las Terrenas and take you to their dock. If you would rather get there yourself, they are located in the town of Sanchez. They also provide a traditional Dominican meal upon returning, for a total for $45 USD, including transportation. Cabarete is the outdoor activity capital of the Dominican Republic, and is roughly 2 hours northwest of the Samaná Peninsula. With both native Dominicans and a high population of expats from all over the world, this is the place to be outside all day and grab a beer at a beachside bar afterwards. If you walk the beach at Cabarete you will see windsurfers and kiteboarders everywhere – both in the water and on the beach. You can stop pretty much anywhere along the main drag and rent a board or get a lesson. If you want more information about kiteboarding, visit Cabarete Kiteboarding. If windsurfing is more your style, visit Cabarete Windsurfing for all the details you need.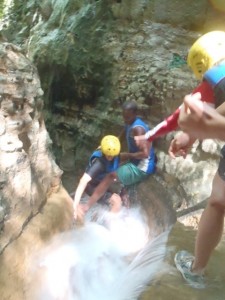 If you are looking for adventure, this is it. Start with your life jacket and helmet and follow the guide into the forest and across streams until you arrive at the first fall. They get your confidence up by giving you a ladder for the first one, but after that its rope climbing and pulling yourself up against the rushing water (with some help from the guides if you need it). Once you get to the last waterfall, the only way back down is to jump off 25 foot cliffs and slide down natural water shoots. We went with a guide from Iguana Mama, located in the middle of Cabarete, who will pick you up from your hotel in Cabarete and guide you up the 27 Falls for $79 USD (not including tax). Iguana Mama also leads eco-responsible tours for those interested in mountain biking, hiking & ziplining, diving & snorkeling, rafting & kayaking, and horseback riding. Just (approximately) 10 miles west of Cabarete, Sosúa is it's own town, but with all the action in Cabarete, it makes sense to catch a ride to get to the nearby diving. I had never been snorkeling before, so I wasn't quite sure what to expect. We went out with North Coast Diving, who were very knowledgeable and helpful for a first-time snorkeler, but also have a variety of trips for serious divers.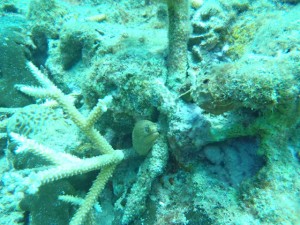 We stopped at the Three Rocks area and jumped in. As soon as I put my head underwater I saw all kinds of ocean life – tiny yellow fish, blue striped fish, coral, sea plants. I was so glad to have an underwater camera. The guide even dove down and snapped a picture of an eel that was hiding from us! We went to another site and saw tons of fish there, too. It was definitely an amazing experience. The 3 hour snorkeling cruise is $45 USD and includes equipment, snacks, a guide, a fish identification chart, and the chartered boat with a canopy to get out of the sun. North Coast Diving will pick you up in Cabarete for $15 USD round-trip.
What you need to know
Now is a great time to visit the North Coast because even though it's gaining a reputation for adventure activities, it is not yet as crazy as some of the beach destinations like Punta Cana. Most tourists visit between December and April, so unless you like the crowds, I would plan a visit between May-October. The rainy season is technically from May/June-October/November, but the North Coast doesn't really get hurricanes like other Caribbean countries, so if you can handle on-again, off-again rain, you should be fine.
Visa fee
- There is currently a $10 visa fee to pay upon your arrival at the airport, but no fee to leave.
Currency
- The Dominican Republic peso and the American dollar can both be used. Major credit cards are usually accepted.
Water
- Drink bottled water or bring a purification system. Depending on your hotel, you may be able to drink their tap water, but it's probably best to be safe and go with bottled. A great website with any other information you might need to know is
Go Dominican Republic
. For more photos, check out my
Adventure Insider Dominican Republic photo essay
!
About Abbie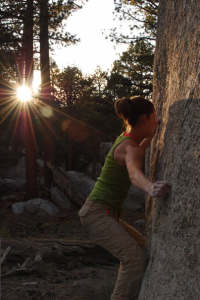 Abbie lives in Southern California and, in addition to being a freelance writer, teaches preschool Special Education. Originally from Delaware, she moved to California after graduating from the University of Delaware with a Bachelor's degree in early childhood development. Abbie earned a Master's in special education from Cal State Fullerton while she developed a love for the outdoors and exploring. She has been an avid runner for more than ten years and has more recently taken up rock climbing. Abbie takes every break from teaching as an opportunity to get out and go (often with pups Daisy and Sadie in tow). Check out Abbie's adventures on
AbbieMood.com
and keep and eye out for her soon-to-be re-launched travel
sneakersandsuitcases.com
, or on Twitter
@AbbieMood
! Abbie is an intern at the
Matador Network
, the budget expert for
Planet Eye Traveler
online magazine, and Managing Editor for
Barefoot-Running.us
. She has also contributed to
BootsnAll
, and
Adventure World magazine
.
While the trip was sponsored by the Ministry of Tourism, any opinions expressed are my own.
[geo_mashup_map]